JANGO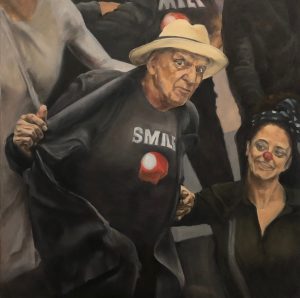 JANGO
After finishing the series "Flea has entered the Building" with Grada, I left for Barcelona in September 2022. To be present at the NCI international training month. Every year during September the NCI (the Nouveau Clown Institute) organizes a month of clown workshops. Jango Edwards is founder and central figure within the NCI. In addition to Jango, other professional, internationally renowned clowns are also there to teach, including Grada. The participants gather from all over the world.
The last week of the workshops I was able to sketch the students and teachers during the lessons and during the preparations for the performances.
I also had the opportunity to sketch Jango extensively. A few of the sketches: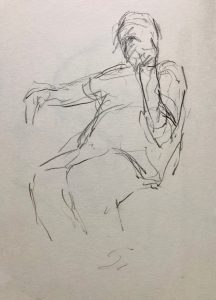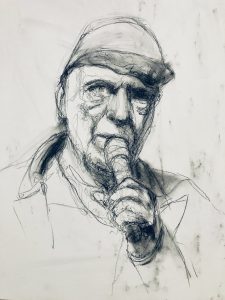 Jango
Jango is American by birth, but his career has mainly taken place in Europe. In the 70s and 80s he was in Amsterdam quite a lot, where he was involved in happenings as "Ship of Fools" and "International Festival of Fools", with which he gained a lot of fame and fans. In that period, he travelled all over Europe with his shows. It's also during that time that Grada trained with him. She travelled and performed with him throughout Europe. Jango now lives in Barcelona.
Jango is a rock and roll clown at heart.  For him, being a clown is a lifestyle, a philosophy.  He has a strong charismatic effect, turning every encounter with him into an unforgettable experience. In fact, he is likely to do that with any circumstance in which he encounters people. He doesn't need anything for that.
His motto, and that of the NCI, is "Smile, it's right under your nose."
The paintings
From the sketches and photos, the following 2 paintings have arisen.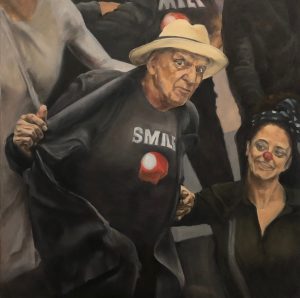 Jango 1, oils on linen, 80 x 80 cm
Jango takes the stage in this painting. He is surrounded by other clowns, but he himself takes up the entire space. It's about him, he's the central figure.
He looks at us with a piercing and inescapable gaze. He opens his coat like a bird of prey spreading its wings. He reveals the message he has for us.
Does he want to catch you with that message? Is it an invitation? Does he challenge you to step out of your straitjacket (into crazy wisdom)? Or is it more of a statement of "man dare to laugh".
The female clown on the right looks at him and reaches out to him. As if she supports him in his message. She smiles kindly, and her eyes are fixed on the red nose on his T-shirt. As if to say, "Go ahead! It might be a bit strange at first, but it's fun."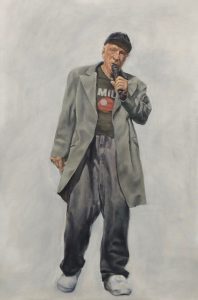 Jango 2 on stage oils on linen, 120 x 80 cm
Jango on stage in Barcelona, the last weekend of the training month. The students present their act there, which they worked on during their training. He also comes on stage, on his own.
Just like in the painting, he takes up the entire stage with his presence and while playing and improvising he also knows how to take over the room.
The message he gives to everyone is "Smile! Put a smile on someone's face every day!". On stage, he supports that, almost as a ritual, with Charlie Chaplin's song "Smile."